Motorcycle Safety
Motorcycle riders account for 20% of all traffic fatalities. As part of Vision Zero SF's mission to reach zero traffic fatalities, we are continuing our motorcycle safety outreach campaign with Free Motorcycle Safety Skills Closed-Course Trainings throughout summer 2023.
This one-day course will be administered by Vision Zero SF, the California Office of Traffic Safety, and the San Francisco Police Department in an easy-going controlled environment.
Riders will learn and practice techniques such as:
Crash avoidance drills
Emergency maneuvers
Going slow with control
Proper braking
Turning techniques
Urban riding drills
Sign up quickly, as classes fill up fast.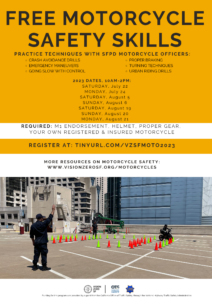 Confirmed class dates are:
July 22 (Saturday)
July 24 (Monday)
August 5 (Saturday)
August 6 (Sunday)
August 19 (Saturday)
August 20 (Sunday)
August 21 (Monday)
Past Events:
2022 Motorcycle Safety Closed-course training
2021 Motorcycle Safety Closed-course training
2019 Motorcycle Safety Closed-course training
2017 Motorcycle Safety Ambassador Training presentation: click here
Resources and information:
Closed course riding:
Contact:
christine.osorio@sfmta.com