Engineering Streets for Safety
More than 70 percent of severe and fatal collisions occur on just 12 percent of San Francisco streets. Vision Zero SF aims to tame streets with higher collision rates and prevent tragedy when people make mistakes. Engineering projects in support of Vision Zero incorporate effective safety improvements like protected bike lanes, wider sidewalks and reduced traffic speeds. The goal is to calm traffic, enhance visibility and improve the organization of our streets.
One of the first commitments to advance Vision Zero was to complete 24 priority projects in 24 months; the City surpassed that target and completed 30 priority projects in 24 months.  To maintain the momentum, a new set of priority projects have been identified although this time the list goes beyond engineering–it includes education, enforcement, evaluation and policy efforts as well.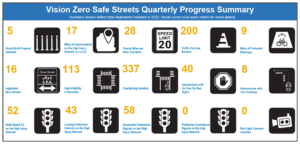 Project Updates
View the Vision Zero Safe Streets Quarterly Updates Progress Summary here.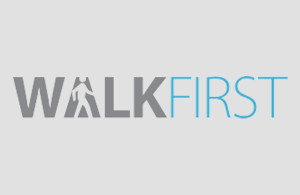 WalkFirst was a two-year public process that identified the 6% of San Francisco streets that are responsible for 60% of pedestrian collisions and developed solutions to help eliminate fatal collisions at over 170 intersections. More information available here.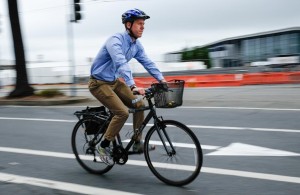 The SFMTA implements bicycle safety improvements across San Francisco, helping growing numbers of people to bike safely and comfortably across the City. In 2014, the SFMTA implemented 10 miles of new and upgraded bikeways in the City. They are hard at work analyzing additional corridors and are excited to share the draft list of corridors  for potential bikeway improvements for 2015 and beyond.