How Are We Doing?
Commitment to Progress
Every year in San Francisco, approximately 30 people lose their lives and over 200 more are seriously injured while traveling on city streets. These deaths and injuries are unacceptable and preventable, and San Francisco is committed to stopping further loss of life. As we track our progress through designing and implementing safety focused projects and programs, we will also track how we are doing, ensuring that our efforts bring us closer to our goal of ending traffic fatalities.
Where We've Been:  Traffic Deaths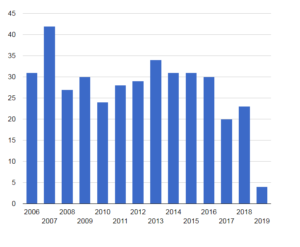 State of Vision Zero Report
Former SF Mayor, Ed Lee:
"While we have made progress, there is still more
work to do. The only acceptable goal is zero.
Getting to zero traffic deaths will not be easy or
quick and will require us all to get serious about
traffic safety.
"Vision Zero is an ambitious goal to have. But it is
the right one, and we will get there."
Read the State of Vision Zero SF 2015 Report